Roanoke Antique Dealer
We Buy Stuff: 540-632-1755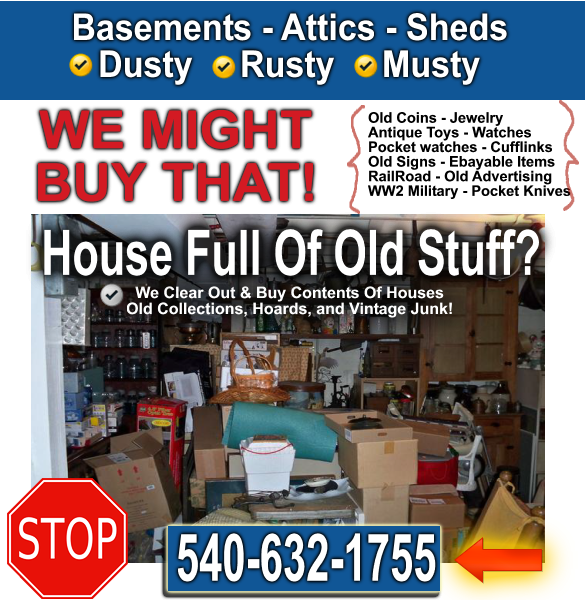 Vintage Cargo Antiques and Estate Liquidation Service in Roanoke VA. VC is not just an antique/vintage junk shop, we provide estate liquidation services and much more!
We are always on the hunt for new vintage and antique items.  We have been buying, selling, and collecting in the Roanoke Area for over 15 years and have a vast knowledge of all things Vintage. There are many antique shops in the area that have some great inventory that you can shop with to buy antique furniture, primitives, seasonal items, and floral knick-knacks – We are different. We focus on the different harder to find unique items and historical antiques from local or regional history pieces, war memorabilia, old paper items, coins, vintage advertising items, vintage toys & antique toys, and oddities like strange medical devices to outsider art.
Our previous shop was located at the historical happy's flea market in Roanoke VA where we found and acquired some of the most interesting vintage and antique items we have ever seen. Happy's Flea Market closed officially in 2015. We now focus on estate liquidation with our estate sales services and on buying unique items and selling them online and on ebay. We also have a local road-side market you can come check out starting  in April. We still find a lot of neat items every week and you are welcome to contact us to browse, buy, or sell!